Biryani Joints in Philadelphia
When it comes to the popular Indian rice dish Biryani, Philadelphia and its suburbs are not short of choices.
Whether you crave Vegetable Biryani, Chicken Biryani, Shrimp Biryani, Lamb Biryani, Egg Biryani, Fish Biryani or Hyderabadi Dum Biryani, you get them all at Philadelphia Biryani joints.
What is Biryani?
Biryani is an aromatic, spicy rice dish prepared by cooking Basmati rice, Cloves, Cardamom, Cinnamon, Ginger, Garlic, Bay leaves, Marati Mogga, Red Chilli spices together on a slow flame.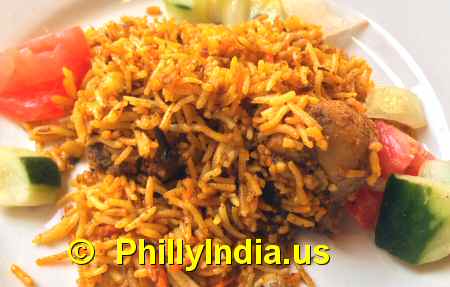 Biryani can be vegetarian or non-vegetarian (prepared from eggs, lamb, chicken, shrimp, fish or goat).
Hyderabadi Dum Biryani
Across America, Hyderabad Dum Biryani is the flavor of the moment.
Offered by restaurants owned/run by Telugu speaking people, Hyderabad Dum Biryani is available in different varieties - Vegetable Dum Biryani, Egg Dum Biryani, Chicken Dum Biryani and Goat Dum Biryani.
Biryani is typically served with gravy and raitha on the side.
Biryani Price
Biryani costs between $8.99 to 17.99 depending on the variety.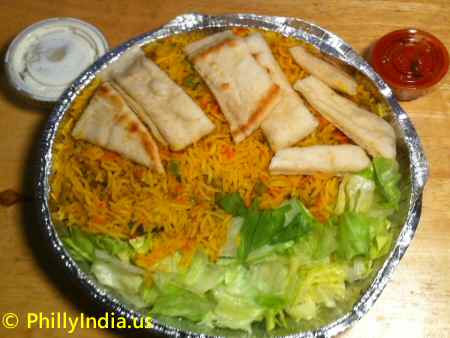 While most Philadelphia Indian, Pakistani, Bangladeshi restaurants offer regular Biryani, there are a few like Saffron on Walnut St that peddle Hyderabadi Biryani.
Here are a bunch of Biryani joints in Philadelphia:
Biryani Cart

1S 17th St
Philadelphia, PA 19103




Biryani King

290 E Lincoln Hwy
Exton, PA 19341


Ph: 610-280-3588




Bombay Masala Grill

518 W Girard Ave
(at N Randolph St)
Philadelphia, PA 19123


Ph: 646-287-9056

Veg, Lamb, Chicken & Egg Biryani



Chatkharay

306 West Chelten Ave
(at Pulaski Ave)
Philadephia, PA 19144


Ph: 267-297-5914

Veg, Chicken, Fish, Shrimp & Lamb Biryani



Dana Mandi

4211 Chestnut St
Philadelphia, PA 19104


Ph: 215-387-5250




Philadelphia, PA 19104


Ph: 215-386-1999




Ekta

250 E Girard Ave
Philadelphia, PA 19125


Ph: 215-426-2277




Kabobeesh

4201 Chestnut St
Philadelphia, PA 19104


Ph: 215-386-8081




Philadelphia, PA 19130


Ph: 215-568-0750




Philadelphia, PA 19147


Ph: 215-925-3881




Philadelphia, PA 19107


Ph: 215-546-9443




Philadelphia, PA 19104


Ph: 215-386-1941






Philadelphia, PA 19103


Ph: 215-564-6446






Philadelphia, PA 19107


Ph: 215-546-2009




Philadelphia, PA 19104


Ph: 215-921-2087




Philadelphia, PA 19104


Ph: 215-662-0818




Philadelphia, PA 19103


Ph: 267-639-9405




Wah-Gi-Wah Halal

4447 Chestnut St
(at S 45th St)
Philadelphia, PA 19104

Ph: 215-921-5597

Chicken & Goat Biryani


Philadelphia Indian Restaurants